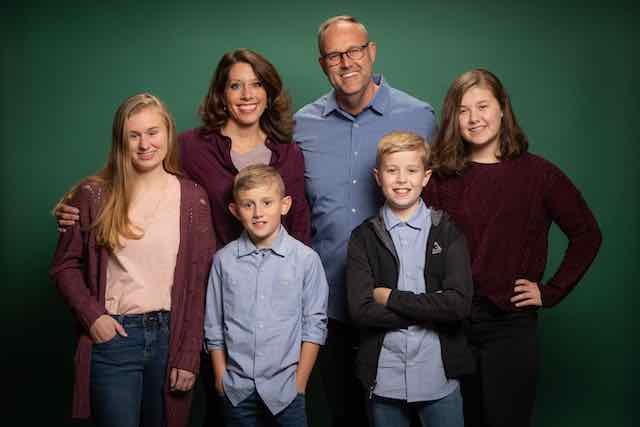 Dave was born in Canada but raised in the Midwest. After turning his life over to Jesus in Jr. High, he experienced a call to full-time ministry. Dave married his high-school sweetheart, Rebecca, and graduated from the University of Northwestern St. Paul. His early ministry years were focused on students and young adults. In 2009, Dave and Rebecca moved to Madison Wisconsin to plant a new church in a post-Christian city. After establishing the church and installing Elders, Dave took a call to a growing, urban, multi-site church in Milwaukee, WI in 2015. Pastor Dave's heart for God's Word is made clear in his preaching, conversations, and approach to ministry. He loves good coffee, great conversations, playing pickleball, hiking, reading, the beach, and spending time with his family.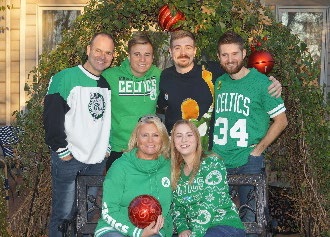 My wife, Jessie, and I have attended Blackhawk since coming to a Living Christmas Tree performance during the Christmas season of 1995, just two months after moving to Fort Wayne. We were married in 1994 and have three sons: Brooks, Jake, and Luke, and one daughter-in-law: Stacie. All three of our boys graduated from Blackhawk Christian School. Over those years, I have been involved in Blackhawk as a Sunday School Teacher, a Youth Basketball Coach, and a member of the Sunday Morning Service Team. I have served as an elder since 2019. Jessie is the High School and Jr. High Art Teacher at BCS. We love Blackhawk because Jesus is at the center of everything the church does, and the people of Blackhawk are so warm and loving. This congregation helped make Fort Wayne our home, despite not being born and raised here.
My wife, Renee and I are both originally from this area. We married in 1985 and moved away for a few years. When we returned to Fort Wayne in 1988, we began a very intentional search for a church home. After visiting several other churches, we finally came to Blackhawk, and it has been our church home since. We are blessed with three children (now adults), Adam, Jack, and Allison. All three attended and graduated from Blackhawk Christian School. Through the years both Renee and I have served in Children's Ministries and Renee in various Women's Ministries. I have been involved in several Men's Ministries and have served for a total of 12 years at two different times as an Elder. I am humbled to be called once again to serve as Elder. We love Blackhawk for the people, the fellowship, the legacy it has for service to this community, and the foundation of Biblical teaching. But most of all we love the focus on the Gospel of Jesus Christ and the saving power He offers.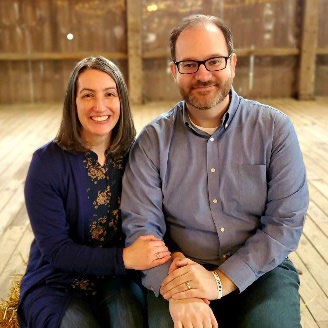 I grew up in a Christian home in the suburbs of Indianapolis and came to faith in Jesus Christ in elementary school. In my teens and early twenties, I was a sponge for doctrine and Bible knowledge. Good things for sure, but my relationship with Jesus was centered in my mind and not my heart. However, in my late twenties and early thirties, I came to understand the full meaning of God's forgiveness of sins, the comfort of God's Word to a weary heart, and the tangible presence of the Holy Spirit in my daily walk with Christ. As God continues his sanctifying work in me, I'm learning to find my full identity in Christ, to find more and more areas of my life to put under his authority, and to abide in his love and not be so quick to forget his past faithfulness. My wife Mandy is a fountain of joy in my life and the phrase "my better half" doesn't do her justice. Since moving to Fort Wayne in 2006, we have grown to love the community and consider it home. The Lord has blessed our time in Fort Wayne with two kids – Cam and Ellie – and dear friends who have become like family. I am excited to serve Blackhawk Ministries as an elder for the next several years and look forward to all that the Lord will do in and through our church.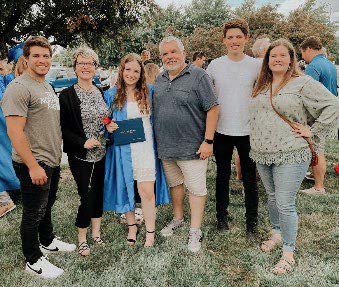 Lisa and I have four kids: Grant, Macy, Allie, and JD. Three graduated from Blackhawk Christian School and one more to graduate in 2024! We started coming to Blackhawk in 1994. My family has been blessed and has grown through the different ways He has led us to serve including Blackhawk Kids, DS3, Go Team (missions), life groups, music, and Welcome Desk. We love our Blackhawk family and being part of a place where we can serve Jesus and hear the truth proclaimed as lives are transformed.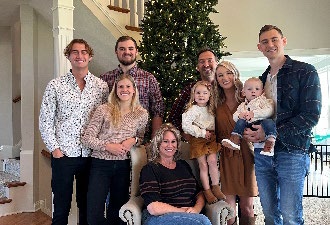 Lynnette and I have four amazing children – Jordan, Weston, Jackson, and Alena. We've also been blessed with a loving daughter in-law, Kayla. A granddaughter (Leah) and a grandson (Owen). All our children have attended BCS since kindergarten. Lynnette and I are also graduates of BCS. I've been attending Blackhawk for over 40 years and Lynnette has for over 30. We've had the privilege of serving in Blackhawk Kids Ministry, various life groups, church security team, Blackhawk Elder board, BCS school board and Renew board. God has sustained and blessed us over the many years at Blackhawk and we are excited to see what he has in store moving forward.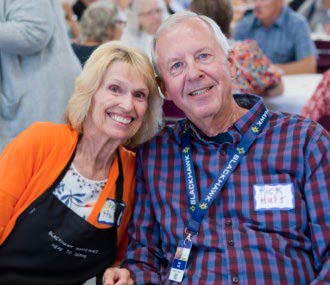 My wife, Sheri, and I have two daughters, Pam and Peg, who both attended Blackhawk Christian School. We have a son-in-law, Brandon, married to Pam, and their 3 daughters, Analise, Maisie, and Sadie. They live in Kearney, Nebraska while Peg resides in Ft. Worth, Texas. I am a retired music educator having taught at Jefferson Middle School for 40 years. I also coached track and volleyball at the school, plus 22 years of club volleyball, and 15 years as a volleyball official. We began attending Blackhawk in 1976 where I served in the music ministry, being a part of the choir, Blackhawk Singers, and the Mensingers Quartet. In 1992, we felt called to be a part of a new church plant in Ft. Wayne. We were involved in that ministry until 2016 when we felt the Lord's leading us to return to Blackhawk. We are also staff volunteers for Turning Point Ministries and Dr. Jeremiah. In addition, I direct our Brass and Woodwind band and serve at the Welcome Desk. It is a joy and honor to serve this body of believers as we continue to carry out the vision of Lighting the One Five.
| Name | Position | Email |
| --- | --- | --- |
| Cami Wharton | Administrative Coordinator | cwharton@blackhawkministries.org |
| Cheryl Pulver | Youth (5th-8th) Director | cpulver@blackhawkministries.org |
| Christian Whitmer | Communications | cwhitmer@blackhawkministries.org |
| Jamie Mosier | Assistant Controller | jmosier@blackhawkministries.org |
| Jessica Clayton | Wedding Coordinator | jclayton@blackhawkchristian.org |
| Judy Study | Business Office | jstudy@blackhawkministries.org |
| Katie Dwyer | Executive Assistant to the Lead Pastor | kdwyer@blackhawkministries.org |
| Kevin Newbry | Head of Schools / GO Pastor | knewbry@blackhawkchristian.org |
| Leah Hilton | Children's Ministry Director (Nursery-4th) | lhilton@blackhawkministries.org |
| Mark "Weaz" Hammond | Student (9th-12th) and Young Adult Pastor | mhammond@blackhawkministries.org |
| Mike & Kathy Rowland | Care Pastor | mrowland@blackhawkministries.org |
| Rhys Barnhart | Assistant Facilities Director | rbarnhart@blackhawkministries.org |
| Robert Munoz | Facilities | rmunoz@blackhawkministries.org |
| Sophia Police | Children's Ministry Assistant | spolice@blackhawkministries.org |
| Stefanie Pickett | High School Ministry Assistant (9th-12th) | spickett@blackhawkministries.org |
| Steve Wild | Chief Financial Officer | swild@blackhawkchristian.org |
| Tate Study | Facilities Director | tstudy@blackhawkministries.org |
| Tonya Hammond | Ministry Support Assistant | thammond@blackhawkministries.org |
| Tyler Study | Facilities | tylerstudy@blackhawkministries.org |