DS3 Parent Night @ DS3 Youth Group
DS3 PARENTS, experience DS3 Youth Group THIS coming Wednesday, October 18, from 6-8pm!
Snack Shack

9-square // volleyball

Bronco Boogie

Icebreaker

Tic-Tac-Toe

Worship

Daniel // Character // Whose Are You?

Snacks

Small Group
*The small group with the highest parent percentage gets a pizza party in November! COME, RELAX, EXPERIENCE, AND ENJOY!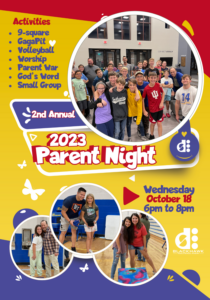 Add photos and videos from your mobile device.
You cannot edit this content
This can't be combined with what you've already added to your post.
You'll choose settings after you click Save.
Your Post is successfully shared withEVERYONE
WHEN:  Wednesday, October 18, 2023 @ 6pm – 8pm
WHERE:  Blackhawk Ministries Gathering Space – Door 12
WHO:  5th-8th Grade Student AND Parents (or grandparents)